LINGUISTIC CONSULTANCY OFFICE
Approved Technical Service
The specific actions related to this office can be summarised in the following points:
The main aspect is the development of a Approved Technical Service for Linguistic Consulting, via a specific linguistic consultancy office for the use of not only the University community but also the rest of society. This service relates to communication in a variety of fields (executive, corporate, politic, technical/scientific, doctor-patient interaction or mass communication) and analyses it from different perspectives (social, pragmatical, psychological or anthropological), linguistic and intercultural mediation, communicative strategies, and types of communication.
Organisation of a variety of courses, workshops and especialised seminars in companies, technological centres and official institutions aimed at the education of linguistic proofreaders, and business communication.
External contracts and agreements strenghtening and extension, focusing on regional, national and international businesses interested in our linguistic consultancy services.
These activities lead to publications such as style guides: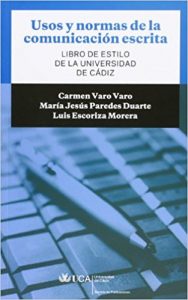 Linguistic Consultancy Services
Linguistic Consultancy Equipment
Coordinators

Luis Escoriza Morera

luis.escoriza@uca.es

Bárbara Eizaga Rebollar

barbara.eizaga@uca.es